---
Urchin of the Riding Stars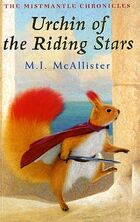 ---
On a night of Riding Stars...
A tiny squirrel is found abandoned and close to death on a beach by Captain Crispin and Brother Fir. Adopted and raised by the warm-hearted Apple in a welcoming colony of animals, Urchin has no idea of his powerful destiny or mysterious origins.
The rule of the good King Brushen and Queen Spindle is threatened by an evil plot from within their court. When their young son is found murdered, the isle is thrown into turmoil. Behind the scenes, the wicked Lord Husk and Lady Aspen are determined to take control. But to underestimate the power of the islanders and the ancient prophecy is a big mistake...