Prince Tumble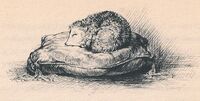 Birthplace:
Mistmantle Island
Species:
Hedgehog
Gender:
Male
Family:
King Brushen (father)
Queen Spindle (mother)
Allegiance:
King Brushen
Death:
stabbed by Captain Husk
Appears in:
Books:
Urchin of the Riding Stars
Prince Tumble was the only son of King Brushen and Queen Spindle and the next would-be heir to Mistmantle, but he was murdered by Husk. He was born when his parents were in their most elderly years.
Personality
Edit
According to Padra, Prince Tumble loved everyone on Mistmantle. He also idolized Captain Crispin and would certainly come to him if he called him. King Brushen says to Padra that he loved boats.
He's born as a heir of Mistmantle, and in his name ceremony he is brought by Lady Aspen, his mother's best friend.
Prince Tumble was found murdered by a single sword wound. Crispin was framed for the murder of Prince Tumble, whom Captain Husk had committed and banished. Interestingly, Husk tells Crispin that "if you hid behind a curtain and called, he [Prince Tumble] would come", to which Crispin says, "he loved everyone...he'd come to anyone." It's likely that Husk hid in exactly that way and called Prince Tumble, stabbing him when he was close enough, though this is never specifically confirmed. Husk killed Prince Tumble in such a way that there was no blood. It's likely this is because of his experience with culling infants who had birth defects.
Despite Husk's violence and treachery, he was just an animal and thus felt guilty over Tumble's death, as he had nightmares where the prince had returned to kill him. After Aspen's death, Husk fled down to the cavern that had fed his evil, where he met Hope and Urchin. Husk, mostly insane anyway, thought that Hope was Tumble and fell into the offering pit, down to his death. His last words were an unintelligible mad cry.