Treeth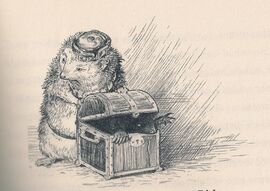 Treeth was a large male hedgehog sent from Whitewings Island by King Silverbirch along with Scatter, Trail, and Bronze, to kidnap Urchin of the Riding Stars from Mistmantle. He was one of Silverbirch's most loyal servants until his master's death.
Lord Treeth arrived in a large ship, bearing gifts, and was cordially greeted by King Crispin and Brother Fir. He told Crispin that the mercenaries Captain Husk in his conquest of Mistmantle had settled on Whitewings Island and were causing problems there. He also claimed that Urchin was the Marked Squirrel, a creature destined to save their island. Treeth tried to trick Urchin by giving him a sword as a "gift", but, had the young squirrel accepted it, he would have been forced to help Whitewings.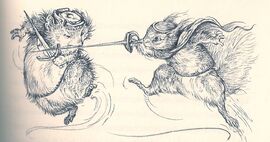 The night Trail, Bronze, Urchin, and Juniper disappeared, King Crispin and Captain Padra locked Lord Treeth in Lady Aspen's old chamber. While there he destroyed many of the objects in the room in a fit of rage, earning the wrath of Gleaner.
Later, in the fight for Mistmantle, Lord Treeth is beaten by Gleaner and jailed. It is unknown what happened to him afterwards, but it can be assumed that he was sent back to Whitewings to be tried by Queen Larch.