Thripple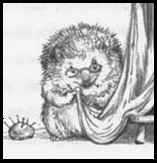 Birthplace:
Mistmantle Island
Species:
Hedgehog
Gender:
Female
Family:
Docken (husband)
Hoppen (son)
Mopple (daughter)
Thripple was a hedgehog, the wife of Captain Docken, and the mother of Hope and Mopple.
Appearance
Edit
She was described as having a squashed, lopsided look about her face and a hunched back, but caring shone out of her eyes, which made her look lovely.
She was a senior threadings hedgehog, and Queen Cedar 's best friend. Thripple took care of Mistmantle's young ones all the time, especially Princess Almondflower. She helped Crispin in reuniting the island of Mistmantle.