Docken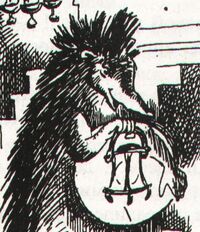 Birthplace:
Mistmantle Island
Species:
Hedgehog
Gender:
Male
Family:
Thripple (wife)

Hoppen (son)
Mopple (daughter)

Appears in:
Books:

Urchin of the Riding Stars
Urchin and the Heartstone
The Heir of Mistmantle
Urchin and the Raven War
Captain Docken was the husband of Lady Thripple and father of Hope and Mopple. He was formerly a member of the Hedgehog Host, a group of miners. 
Personality and traits
Edit
Docken is described as being perpetually untidy in appearance, with his quills sticking out at odd angles despite his wife's best efforts. However, he was loyal and responsible without question, and a devoted husband and father. Docken initially was uncomfortable with the idea of being a captain, feeling as though he were merely a stand-in for the position until a better candidate came along.